I've enjoyed the quality of my Panasonic AU-EVA1 now for more than a year. It was finally the camera I had been waiting for with all the right specs for under 10K. 14+ stops, 4:2:2 color, 10 bit, V-log, and famous Panasonic color science. And when I found I could get a Wooden Camera PL mount, I was sold, and knew it would become my mid-range workhorse.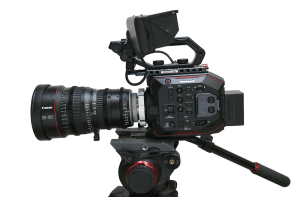 I've been able to work around the poor LCD by using a Zacuto Gratical for outdoor work. Another benefit is that the camera is light enough to mount in a gimbal system like a Movi or Ronin, which I've done but wish it could go on a smaller, even more portable system like my Ikan EC1 Beholder or at least the Ronin S. Up until now I've been using a Samsung NX1 for that, but it's just not a great match in specs and image.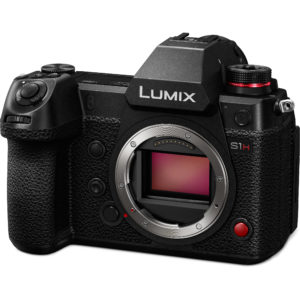 The Lumix S1H may change all that. I've seen a few early reviews of the camera but hadn't seen a direct comparison to the AU-EVA1 online, which seems to me a very logical pairing for those of us who need two matching cameras, especially if one is bound for a gimbal frequently. The S1H specs actually exceed the EVA1, mostly in that it can shoot 6K full frame, but that is not why I'm interested in it. I typically shoot 4K these days as my clients are still finishing in 1080 and just want to scale in or simply protect their library for years to come.
This review isn't going to be about the features and 6K hype of the S1H, but more a direct side-by-side comparison to the performance of the EVA1.
Quickly, I have to thank Marcus Jeffry Miller of VideoWise Group for bringing his brand new S1H to the shootout. After only a weekend shoot, he is ready to buy a second. He outfits his with a set of EF Rokinon Cine primes via a Sigma adapter for the S1H L mount, and we decided to shoot at 50mm, a pretty standard interview focal length. What I wanted to see was how the EVA1 and S1H looked side-by-side in normal use at their native ISOs and then pushed a little in low light.
My EVA1 was setup with my Canon Cine Zoom 30-105mm PL. We also had another EVA1 there thanks to Tom Graybael of tomshoots.com, and he had his setup with a Canon 50mm Cine prime, which you will see in the sharpness test.
The EVA1s are S35 sensors and the S1H is a full-frame mirrorless camera. However tempting it was to shoot it in S35 mode, (to match field-of-views), I was curious how different the full frame would be so you will see some scaled-in S1H scenes to match the EVA1 at times . Here's our shooting format:
4K, 4:2:2, 10 bit 23.976 fps, V-log, 50mm focal length, f.4, 5260 kelvin
We were fortunate to have our friend, Barak Epstein, at Videotex in Dallas, set us up in their large event room where they have blue and green keying walls in the background. We lit a simple scene with a daylight Kino key and kicker and then washed the background wall in tungsten. Isabelle Milford, a young aspiring cinematographer, sat in for us to provide some skin tone.
Our first setup was simply to see how well the EVA1 and S1H looked at their LOW base ISOs in V-log, (which is how you get the most dynamic range out of the cameras), so EVA1 ISO 800 and S1H ISO 640.
Side note: I initially got ISO information from a cinema5D.com review. It was hard finding any comprehensive info from Panasonic, which seems odd. Even the S1H manual isn't clear about switching from one native ISO to the other, unlike the EVA1, which clearly shows going from base 800 to base 2500. I eventually reached Mathew Frazer of Panasonic Lumix to clarify how the ISO works in S1H, which GH users will find the menu more familiar to them. By selecting LOW in the Dual Native menu you are presetting the ISO at 640 and can go up from there. In HIGH you are presetting to start at 4000 and can go up from there. You have to use the ISO SENSITIVITY setting to move up the ISO. In AUTO the camera determines which circuitry is best for the ISO selected. Our S1H was set to AUTO and we selected ISO settings.
We tried to keep all the lenses at around f.4, again a typical f-stop for interviews. We all focused on Isabelle but also added standard color chip and focus charts among some random objects. The exposure choice was based on zebra 1 set to 50 and confirmed on a light meter.
These frames show the difference between full-frame FOV and S35 FOV with the S1H having so much more real estate. It makes you rethink your millimeter choices if you plan to shoot full-frame.
Color correction was kept to a minimum, adding the standard Varicam V-log LUT in Premiere Pro Lumetri and then Basic correcting to achieve skin tone around 70 IRE on the waveform. I didn't touch the temperature, tint, exposure, contrast, or shadow sliders at all, only highlight level to boost skin tone, white level to boost whites to 90 IRE and black level to 0 IRE. No color additions or subtractions or enhancements at all.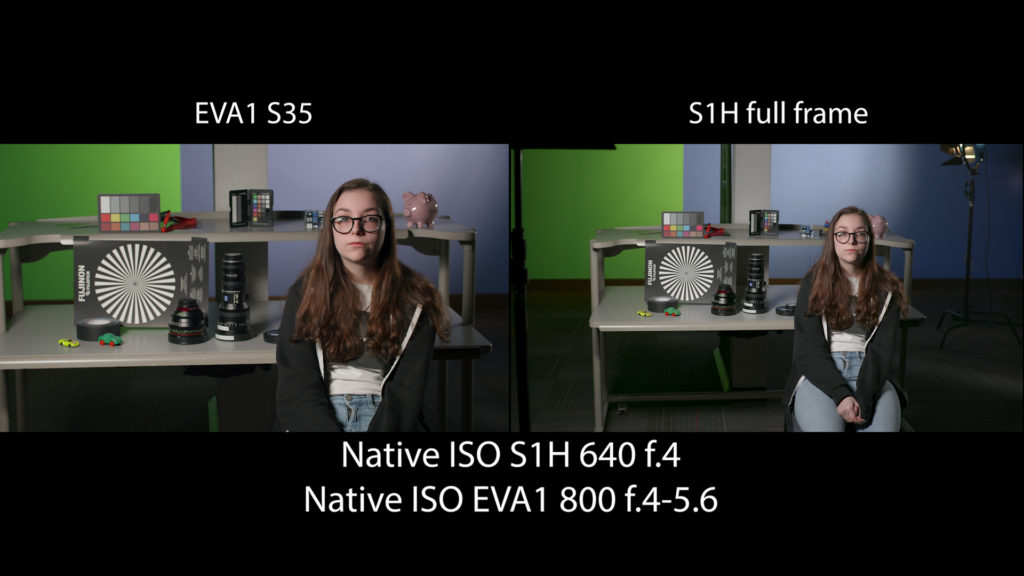 First thing I noticed was a shift in the blue and green backgrounds, S1H being a little more saturated and bluer in the blue and even more slightly was yellow in the green (which might be somewhat contributed by differences in lens coating perhaps), but Isabelle's very fair skin looked very much the same, as did the chip chart and various objects. The EVA1 might look a tad richer or perhaps more red in the skin.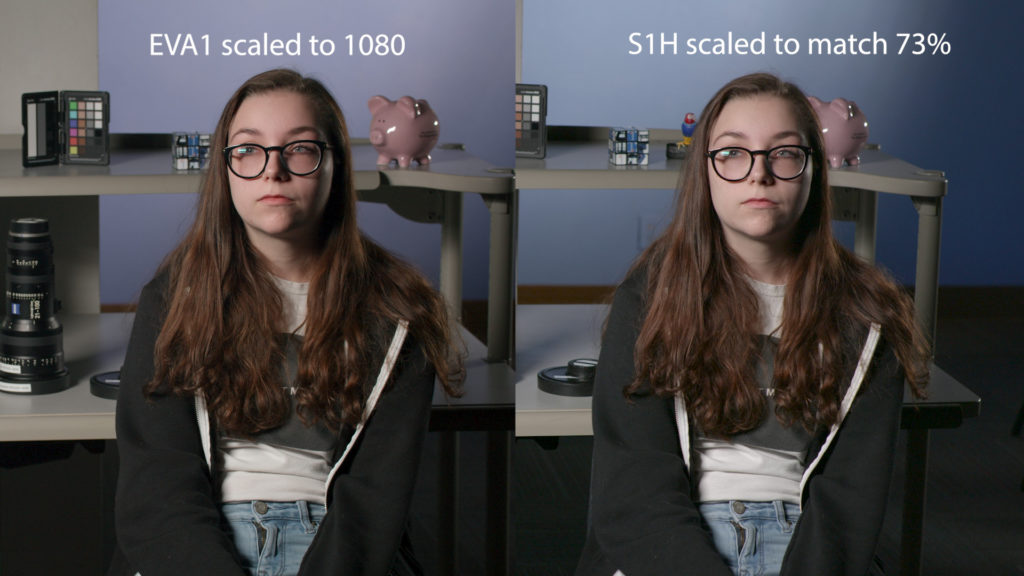 Right away I would say these images are very compatible. And although I'm not really asking a lot of the dynamic range here, it's worth noting that I didn't see a huge shift in hightlight or shadow detail, dropping the same corrected LUT on each clip.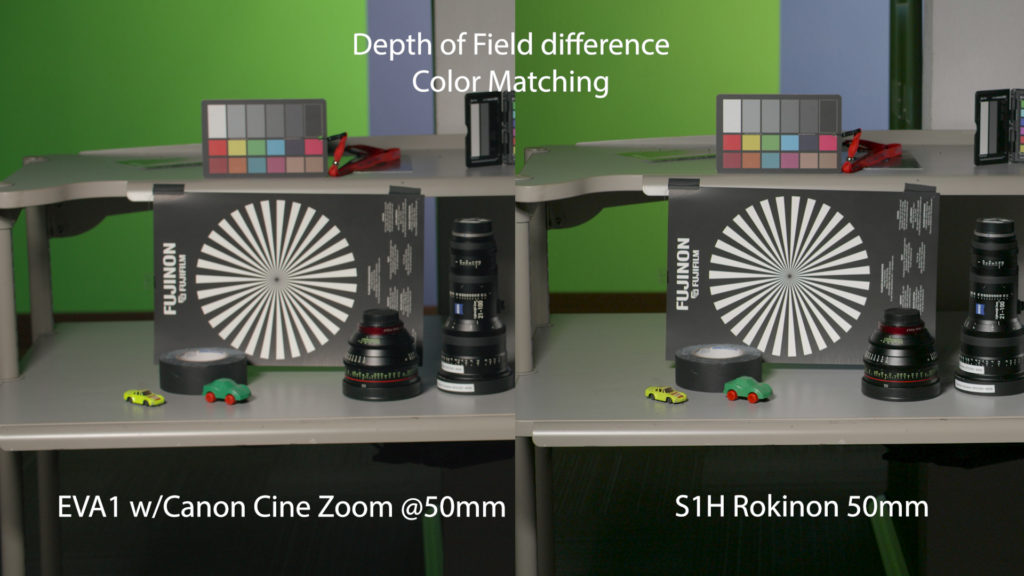 The split image of the chip charts appear very close in all colors, indeed! You can see the depth-of-field difference with the Canon Cine Zoom softening more quickly than the Rokinon Cine Prime, especially in the 100% scaling view.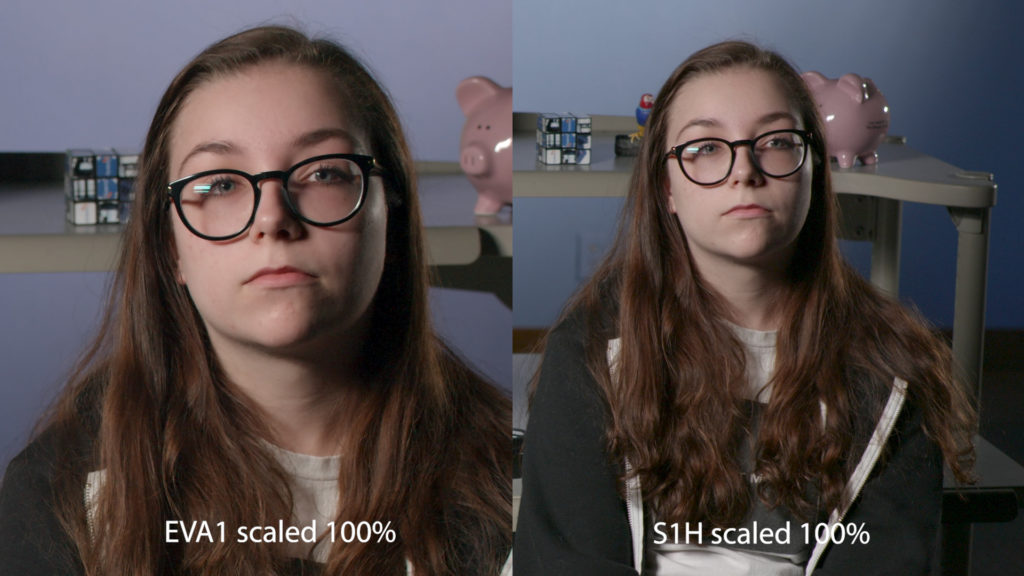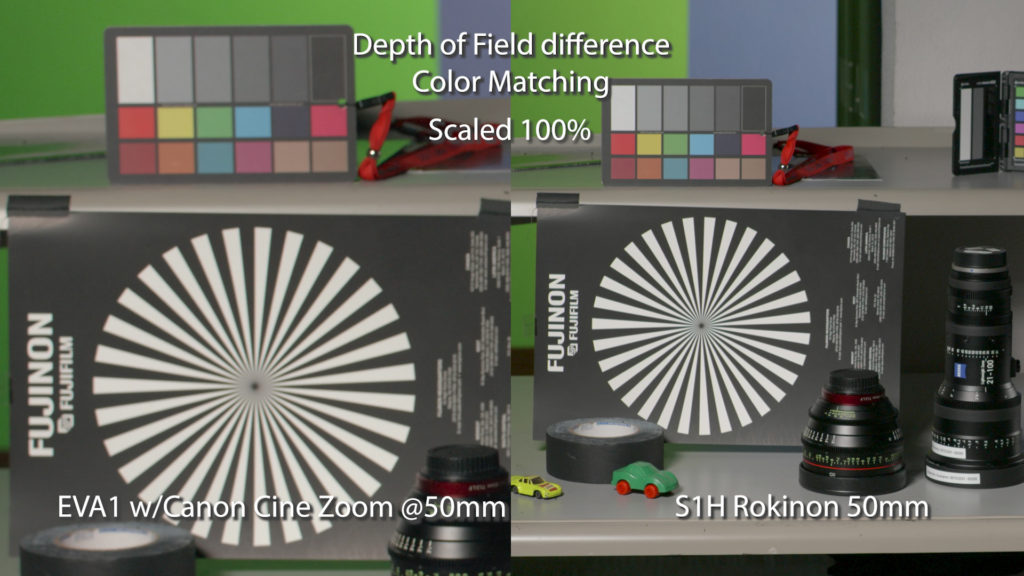 The progression in the video shows these side-by-side images scaled to match and also to 100% on the 1080 timeline. https://youtu.be/lF7J-IyErWo
(This is often missing in comparison reviews. Since few people can watch demonstrations in 4K, it's nice to be able to show the noise levels and sensor quality at 100% of the 4K resolution on a 1080 screen).
In the next sequence, we backed the key light away, doubling the distance, so we could closely maintain f.4 while showing a normal exposure at the HIGH base ISO 2500 EVA1 & 4000 S1H. The S1H added a variable ND.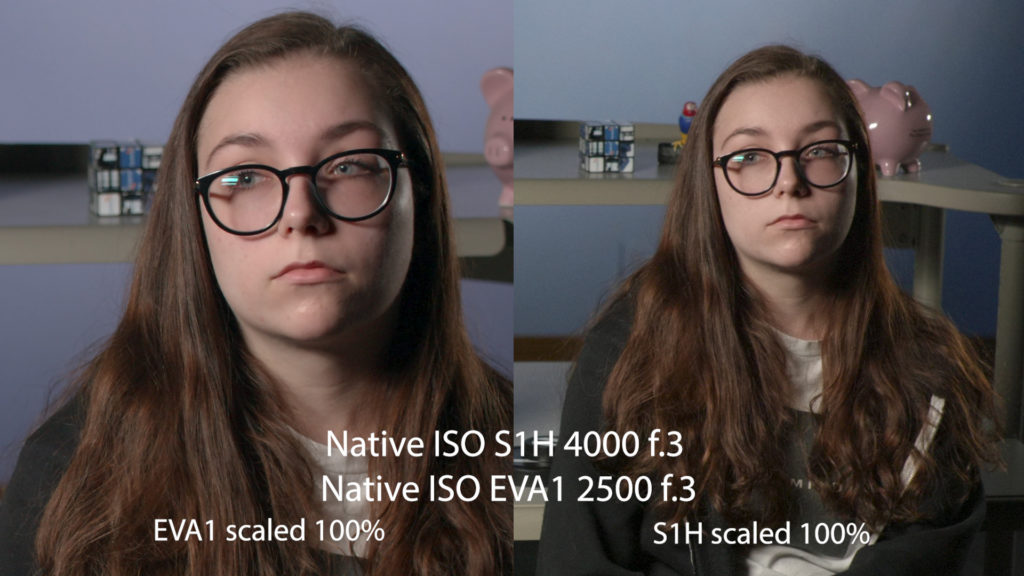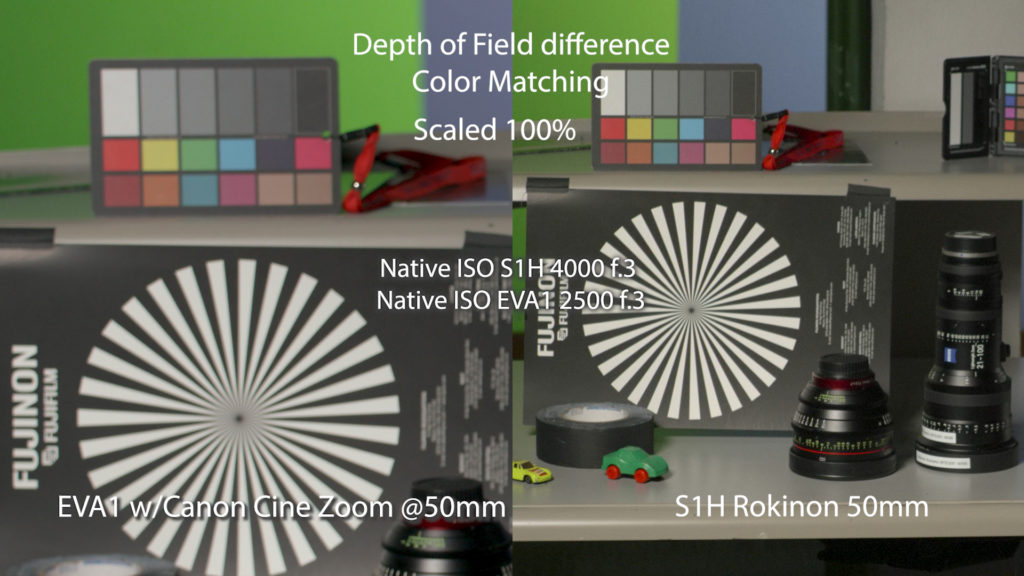 Results: It appeared to me only the slightest amount of noise increased in dark areas, and perhaps only a tad more so in the S1H footage, but so hard to judge until you see the images at 100%. It would make sense as S1H HIGH base is 4000 and EVA1 HIGH base only 2500 ISO.
Next sequence shows S1H V-log, ISO 640 (LUT and corrected as before) compared to S1H HLG ISO 400 (no LUT, just corrected). As one might expect, the shift in hue and saturation is more pronounced in HLG, but would need a true HDR monitor to appreciate the HLG mode.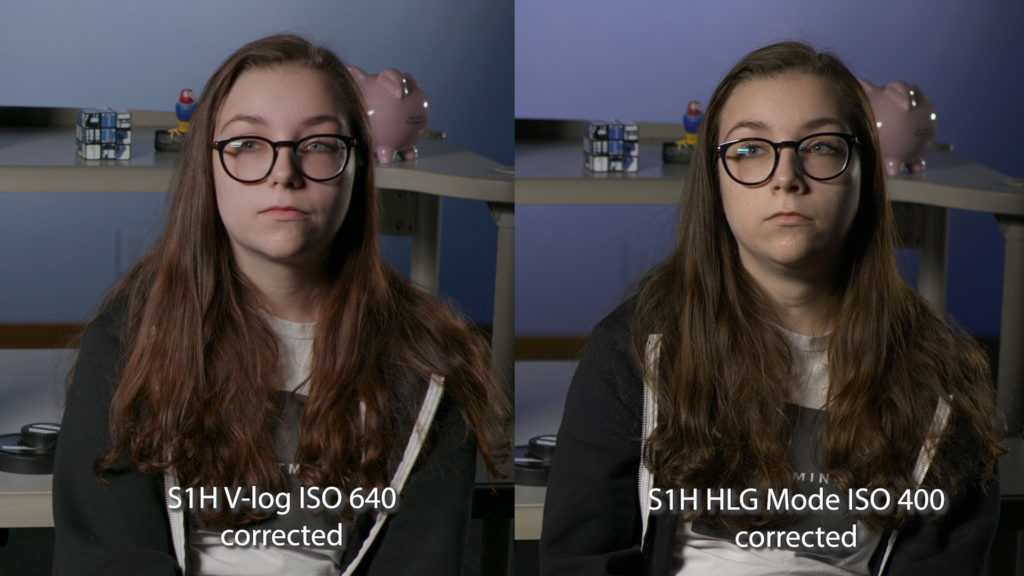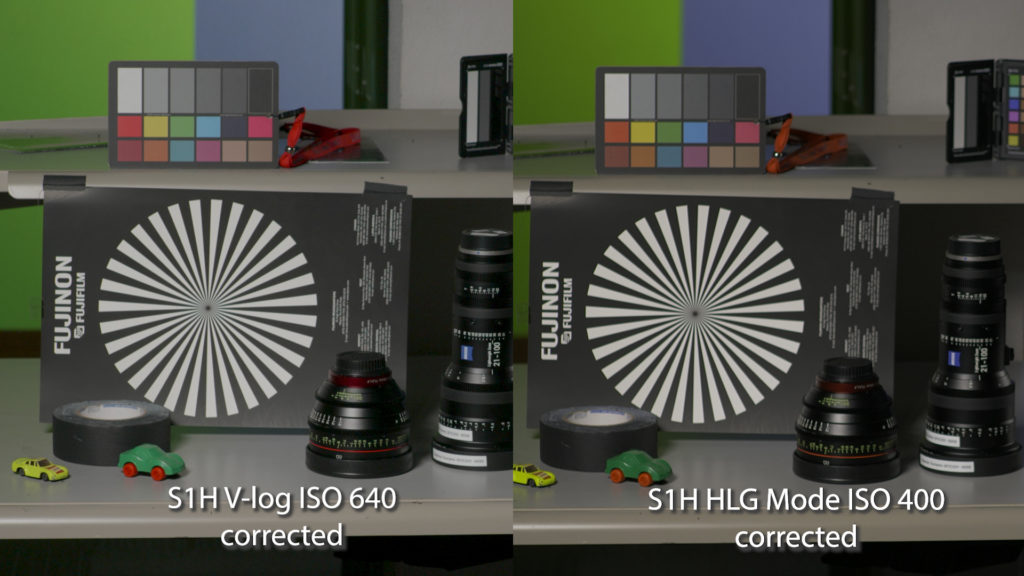 Definitely more yellow in the HLG mode, or perhaps just more Chroma was introduced. The red chips were very different. The final comparison of HLG and V-log is in their high base ISOs of 4000 V-log and 2500 HLG. Same colors just more noise as expected.
Now comes the more revealing NOISE TEST. I have felt the EVA1 limit is ISO 5000 before noise is unacceptable. (It's worth noting we did not move or lower the intensity of the kicker to see how well dynamic range would handle the overdriven kick).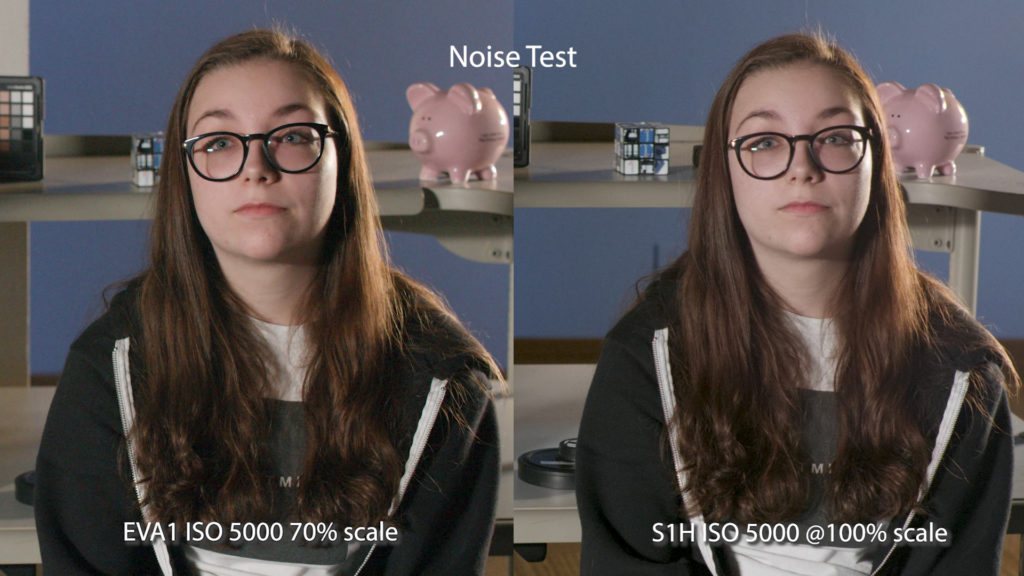 So side-by-side with both cameras at ISO 5000 seems somewhat similar with the edge going to the S1H, which it should, as the sensor is so much larger, plus closer to its HIGH native base 4000 ISO.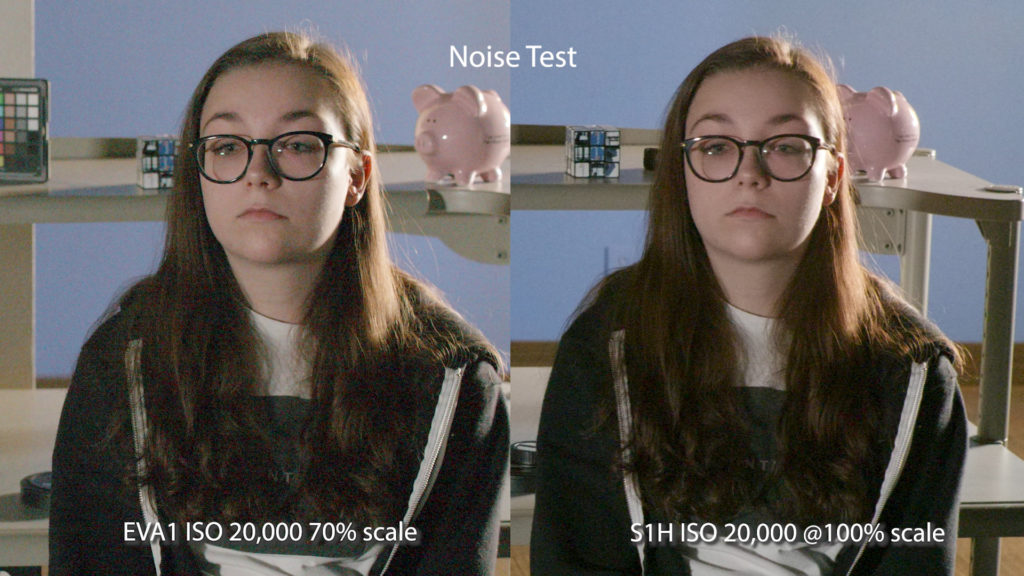 But at an outrageous ISO 20,000 the S1H holds up so much better, it is amazing, though I don't think I'd take it beyond 10,000!
The last test was for sharpness, which we couldn't properly do, for ideally you'd want the same lens on both cameras. Different lens mounts prevented that.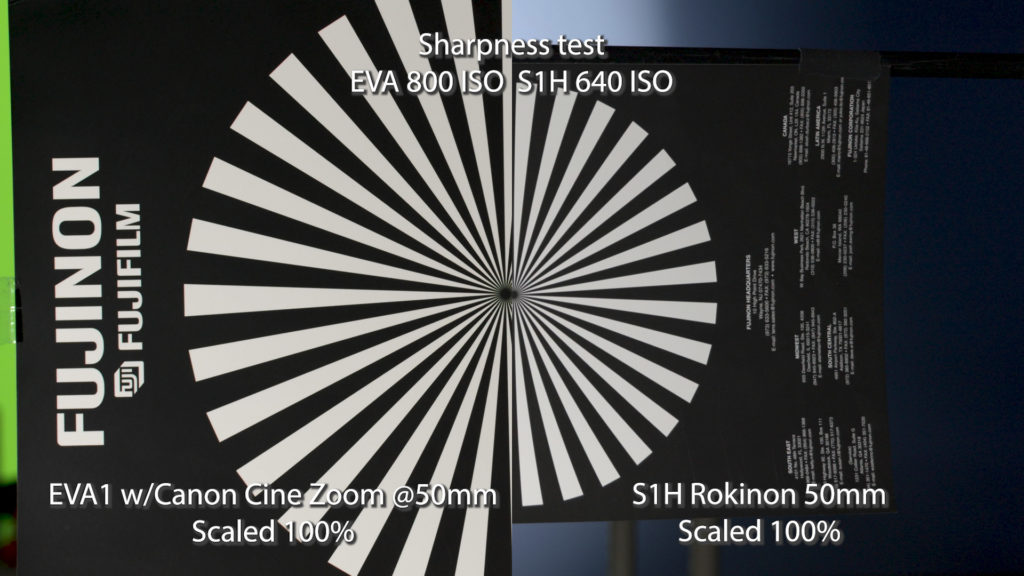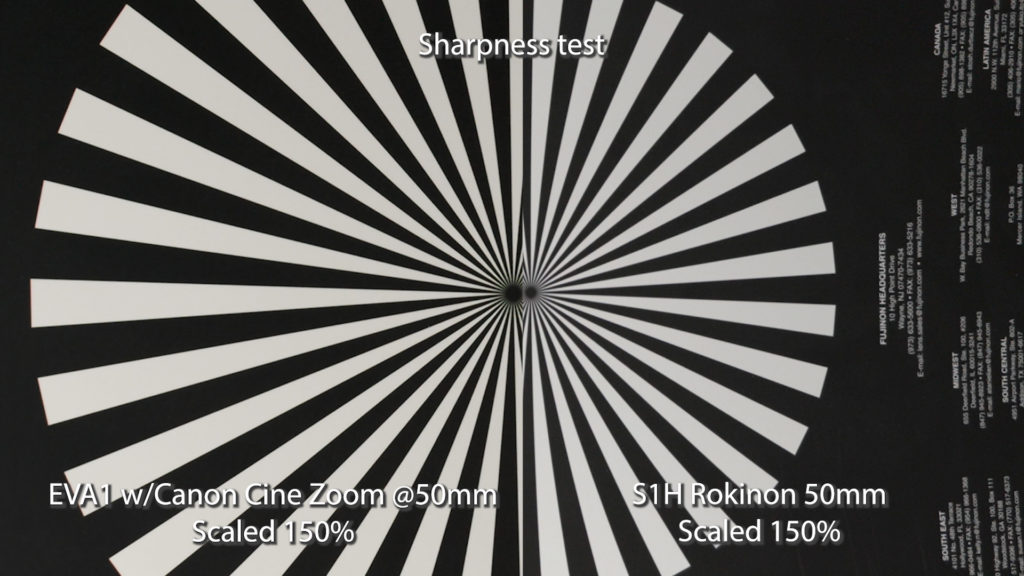 But it was impressive to see the 100% scaled-in  $400 50mm Rokinon Cine Prime coming close to the sharpness and clarity of the Canon Cine Zoom at $20,000 (retail). Only at 150% scaled began to reveal a sharper, cleaner, more contrasting Canon Cine Zoom. Note: We returned the cameras to LOW base ISO.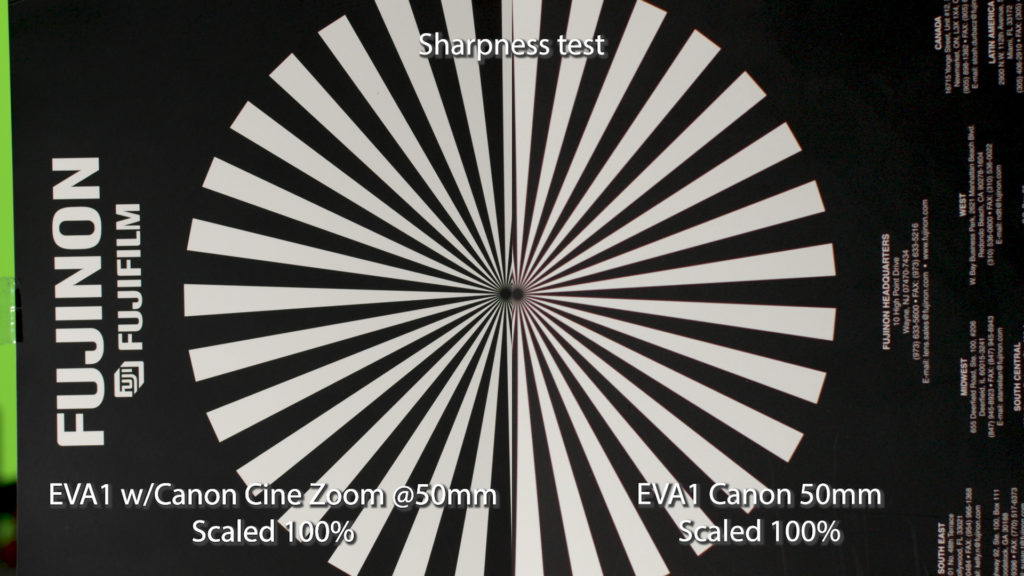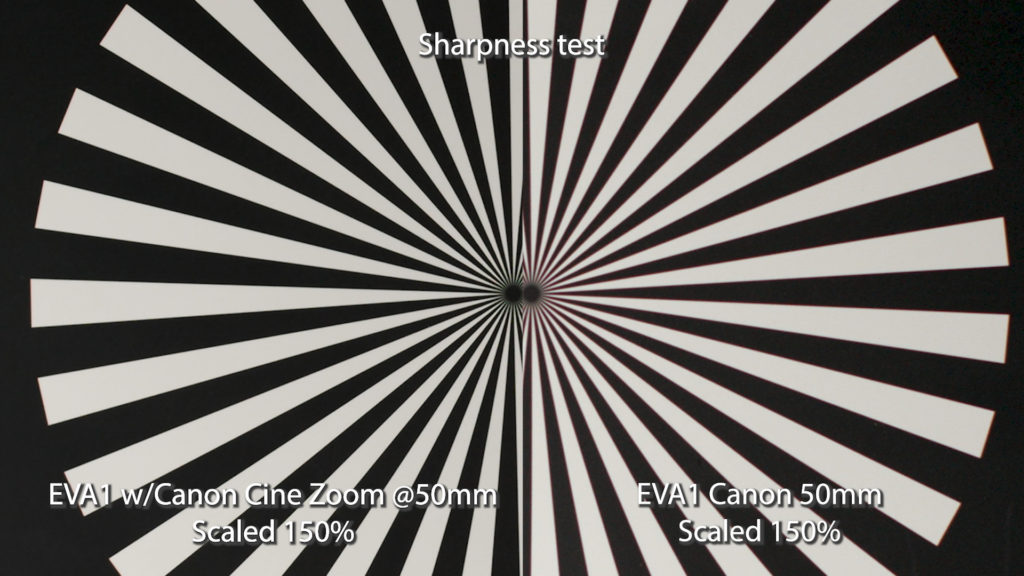 In fact, I'd say the Rokinon might have held up better than the Canon Cine Prime at nearly $4000 (retail), where what appears to be some chromatic aberration.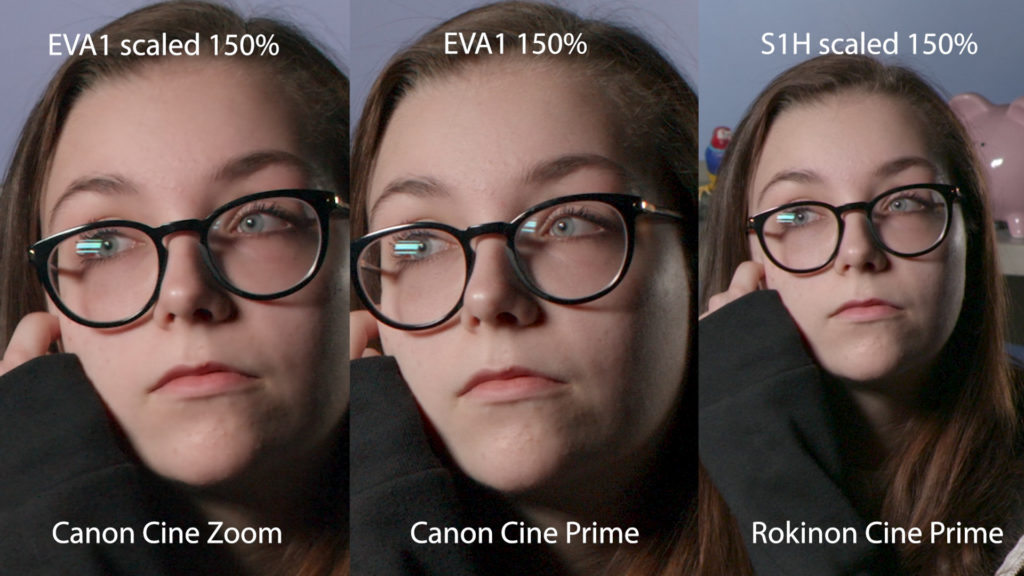 But of course, how do they look on the set? The last images of Isabelle at 150% all look pretty close between the Canon Cine Zoom, Canon Cine Prime and Rokinon Cine Prime.
CONCLUSION: Although a rather hurried and unscientific set of tests, S1H proves to be a worthy companion to the EVA1, performing very similarly in color rendition, dynamic range, and sharpness, but excelling in less noise after 5000 ISO. I think this baby will find it's way into my camera bag soon.
Again, here is the link to the running video of the shootout. I'd love to hear some comments or thoughts.