This is not exactly video or film making related other than for those putting together their studio or production office. I am opening a Alto, NM office and needed some descent looking cabinets. I thought I'd review my experience with the cabinet provider since there are few places to post such stuff.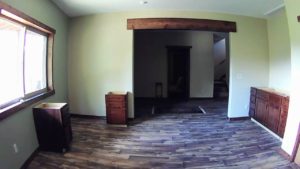 I bought 5 of their cabinets for my office setup. The picture shows 3 cabinets in a row on the right side inserted into an alcove. Two desk cabinets on the left that are awaiting an "L" shaped desktop I'm custom making for my editing station.
Overall I am satisfied with the cabinets for my purposes though I have a few criticisms. They don't come with step-by-step instructions in the packages. There are some training videos, which are helpful, but not all products are covered and not that easy to find. Dave, from the company, did help me out a few times, which was great, on the phone! I discovered a defect where screwing a drawer rail runs into one of the rear cam-locks. I told them about this and they said it was a known problem they are working on. Well, should you really sell a product with known defects? Not even a warning about it during assembly. It isn't a deal-killer just unprofessional and inconvenient. The cabinets themselves seem to be a dense particle board and the screws can easily tear through if moved incorrectly during assembly. I ruined two sides of a cabinet this way because I didn't have assembly instructions. But to their credit, Dave quickly sent me two replacements at no charge. Once together, they are pretty sturdy, as much as a particle board cabinet can be. Assembling the drawers are a little tricky but manageable.
The desk cabinets don't come with veneer skins on them. You have to put them on yourself or otherwise have to look at the beige sides standard to all their cabinets. They sent four sheets of matching wood veneer which you adhere to the cabinet sides that will be exposed to view and then rout the edge away. So you have to have a router and cabinet edge bit to do this. Not everyone will have this. Fortunately, I do. A kick-plate veneer also came with the shipment to be glued.
The shaker knotty alder faces look nice in this Mocha finish! Other finishes available. So if you need an inexpensive alternative to custom cabinets, these will work fine and look good.
It would have been nice if they put their product catalog online instead of making you order it. It comes as a loose bunch of black and white pages but you can find your cabinet sizes and order based on that.
Knottyaldercabinet.com operates out of Utah though it appears a lot of their product (if not all) comes from China, which I didn't know when I purchased. They recently announced a price increase due to the tariff war going on. My cabinets came in flat boxes stacked on a palette encased in a crate, so they are sure to arrive undamaged. The company encourages buyers to submit a photo of what they do with their crates afterwards. I turned mine into a temporary workbench!