I went and did it! I got the Panasonic AU-EVA1. This camera seems to be taking our industry by storm! The specs are great and the camera so far really delivers. And for those of you already setup with EF lenses, you are good to go! I, however, do not have EF lenses. I do have a sizable investment in PL glass, specifically a Canon 30-105mm Cinema Zoom, 24mm Xeen prime, 11-16mm Duclos, and a 300mm RED. These give me a very workable range from 11mm to 300mm with my most used range of 30-85 in the cine zoom at a constant 2.8f.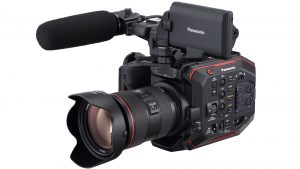 For the camera comparison shoot last month I had purchased a PL to EF adapter made by Fotodiox and it worked perfectly well adapting my Canon Cine zoom to the EVA1. However, that's the only lens of mine that would fit. All the others had far too protruding back elements to fit the rather shallow adapter. I knew I would be on a shoot and the director was going to want a super wide angle or super telephoto angle and I wouldn't have a good solution beyond 30-105mm. So I was either going to purchase wide and telephoto EF lenses (at about $1300 for each) or find a way to use all my PL glass.
Wooden Camera had the best answer with their elegant PL conversion. https://www.woodencamera.com/pl-mount-modification-kit-panasonic-eva1-p/255400.htm
Basically, they take off the EF mount and put in their mount (or you can do it yourself) and their PL mount accepts all my PL glass with a much greater back element clearance, up to 33.5mm, which would accommodate most PL lenses.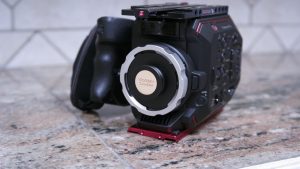 But by going this route, I give up a pretty powerful tool with the EVA1 auto focus. I don't use that sort of thing a lot but sometimes it's been very handy. As part of the conversion, they stuff the electronic connection under the mount so it's always there in case I want to return the camera back into an EF camera. As usual, I typically weigh what I feel is the more important feature. 24/7 PL quality glass or occasional electronic features.
The mount is really well made and cheaper than buying additional lenses. By going all PL I think I may have something extra to offer over straight-up EF users. I can provide true cinema lenses (mine and any rental houses) and can add all my accessories from follow focus to remote focus to Micro Force zoom.
The rest of my package has Zacuto quick release and recoil accessories, and I'll be using my Zacuto Gratical EVF to upgrade the viewfinder to a much higher standard.
Thus far I've only shot a couple simple talking-head projects but look forward to really seeing what this camera looks like in all kinds of situations.