Why on earth would I choose these three cameras to test and compare? Well, I own both the Arri Amira and the Samsung NX1 and have been looking for a middle ground camera for some time but haven't really been excited enough about the below 10K cameras, which is the market niche I'm looking to update. On a few occasions I have actually used the Samsung NX1 as a second camera with the Amira. My last blog demonstrated how the two go pretty well together (under the right conditions), despite the huge price and spec differences. So naturally I am looking for that perfect under 10K camera that can work along side either of the two extreme ends of video cameras I own.
I've been tempted by the Canon C200, Sony FS7, and Ursa Mini Pro, but there was always a "gotcha" when comparing them. Quirks, reliability issues, poor low light performance, no 10 bit option, only 4:2:0, too soft, lacking this, lacking that. It was always something keeping me on the sidelines. At least until now. The Panasonic EVA1 seems to be a camera I can get excited about for a number of reasons that are strictly my own, based on my circumstance and preferences for the middle companion camera. But before getting into all that, I need to consider the most basic element of why I choose a camera. For me, it's all about the sensor.
After several years using the Samsung NX1, I am constantly amazing by the razor sharpness and color science, despite all it's quirks and frustrations (that most DSLRs suffer) but, man, those pictures look pretty dang good! At least for an 8 bit, 4:2:0 camera with maybe 10 stops of latitude. I could use an external recorder and get 422 out of it in UHD, but still only 8 bit. No, if I was going to plunge yet again into the camera market it had to deliver a sharp image, 422, 10bit, less quirks and robust codec.
Videotex in Dallas has been my local supplier of video gear for many years and a dealer for the Panasonic EVA1. Barak Epstein of Videotex was kind enough to let me come down and test all three cameras together.
One of my criteria for my camera selection was to be able to use my PL mount Canon 30-105mm Cine Zoom on it. At first glance, the EVA1 being a strictly EF mount, seemed out of the running until I heard Wooden Camera carries a PL conversion kit. Now we're talking, but then again, there could be some real benefits using EF lenses on this camera, namely AF features on certain occasions. Then I find that Fotodiox makes a PL to EF adapter (only for certain PL lenses with short protruding housings behind the PL mount point). Turns out my Canon Cine Zoom fits, but not my Xeen 24mm PL or my Duclos modified 11-16mm Tokina PL or my RED 300mm. I'll think about wide and long lens needs later. But the Fotodiox allows me to test all three cameras with the same Canon Cine Zoom lens, which I think is super important to compare apples-to-apples. I've been using a Fotodiox PL to Samsung mount with great results for a couple years now on the NX1.
The camera test.
My main concerns were how well the EVA1 would match the color and sharpness of my Amira and Samsung NX1. The set up for the test is as follows: A table top of stuff with various colors and detail, including a focus chart, color chips, human skin (thanks, Barak, for being a model!), and as a bonus, a broad background of green and blue. We only had three panel lights that I set to 5600k and all cameras set to 5600k, no white balance taken. Light levels were metered and cameras were all set to F2.8-4 split at 800 ISO, 23.987fps, 180 shutter, 4:2:2, (10 bit EVA1 & Amira), (8 bit Samsung), UHD recording for Samsung and Amira, and 4K for EVA1. I usually try to work around F4 but going slightly under would really test sharpness because there would be very shallow depth and no help from a smaller aperture. The wide set up was shot at 50mm and the tighter shot at 75mm, both about 12 feet away.
These first images shown are 50mm with cameras baking in Rec.709 just to compare how each manufacturer applies this industry standard LUT in-camera. What your monitor actually displays will depend on how color-accurate it is according to industry standards, so I've included both waveform and vector scopes to better show the color shifts. Click the photos for larger images.
Samsung NX1 709 scaled down to HD w/scopes
EVA1 709 scaled down to HD w/scopes
Amira 709 scaled down to HD w/scopes
I'm no video engineer but first things I noticed were the NX1 had higher saturation, more contrast and was sharper. The EVA1 leaned more toward yellow, especially in the green background compared to either Amira or NX1, which have closer color science. The Amira was more de-saturated of the three. Other than the green background, they are all relatively close in 709 mode. EVA1 skin tone seemed a little pushed toward red on my older HP Dream Color monitor. The EVA1 images have black bars top and bottom because in 4K mode you have 4096 pixels wide, and when scaling to fit, Adobe fits the largest aspect, the width in this case, leaving black top and bottom. 4K is not 16:9 ratio as UHD is.
These next images are at 75mm.
Samsung NX1 75mm, 709 scaled to HD w/scopes
EVA1 709 scaled to HD w/scopes
Amira 709 scaled to HD w/scopes
The scopes clearly show the NX1 is over saturated and sharpest of the group. The EVA pushes a little further into yellow and a tad less from red than Amira.
These next images only include the EVA1 and Amira because now I wanted to see how the cameras compare in their respective Log mode, where the true benefits are. The Samsung NX1 has no Log option. You'll see the original log image then that image with an applied S curve from the Lumetri plug-in within Adobe Premiere to correct toward a 709 image. No other color correction added.
EVA1 50mm VLog, then w/S curve, scaled to HD, w/scopes
Amira 50mm, LogC, then w/S curve, scaled to HD, w/scopes
Here I see most apparently the absence of red from EVA1 compared to Amira. See the little red car on the right and the far left red color chip difference? The EVA1 renders the car and chip more orange than red. You can see it in the skin tones. EVA1 skin leans more yellow. Clearly Panasonic is pushing red back into its 709 in-camera LUT to somewhat restore the red signal. The differences in the color backgrounds aren't as dramatic as when 709 was baked in.
Let's see the same treatment in the 75mm image.
EVA1 75mm VLog, then w/S curve, scaled to HD, w/scopes
Amira 75mm, LogC, then w/S curve, scaled to HD, w/scopes
Again, the main difference here is the absence of red in the EVA1 image.
So clearly working with a simple S curve does not get me close enough without some help. De-logging is more than just stretching the luma. I went looking for a EVA1 V709 LUT and ended up finding one on the Panasonic site, VLog to V709 for V35 (Varicam 35) with a .cube extension, and could apply that in Lumetri as a LUT and suddenly the red returned. And out of curiosity, I applied the default Amira 709 LUT instead of the S curve correction.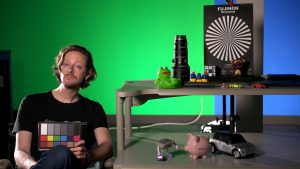 Samsung NX1 709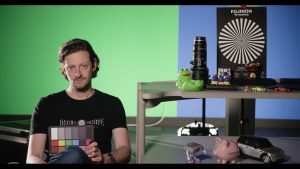 EVA1 V709LUT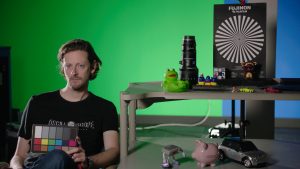 Amira 709 LUT
This resulted in much closer color matching between all three cameras. The EVA1 skin tone still leans toward yellow a bit but within a tolerable range to correct. Panasonic Cinema product manager, Mitch Gross, confirmed I used the correct V709 LUT, as all the Varicam line uses it and EVA1 as well. EVA1 specific LUTs may be in the future, he said.
Finally, this set of images are scaled to 175% to show detail of all three cameras. All three were focused on the focus chart.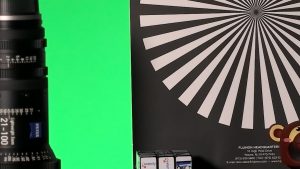 Samsung NX1 175%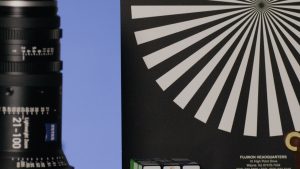 EVA1 175%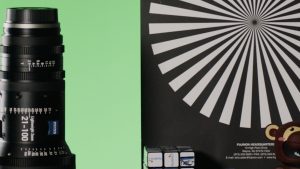 Amira 175%
The Samsung NX1 is the sharpest, then the EVA1, followed by the Amira. The Samsung is so sharp it's a little harsh where as the EVA and Amira are more pleasing and filmic. I also account for the Amira being less sharp because it has a 3.2K sensor that scales up its images to UHD within the camera.
Conclusion
I would say it is possible to shoot all three cameras together with 709 baked-in and then adjust saturation and contrast levels in post (so long as you don't have a massive wall of green to match to). But I think it's better to shoot Log when possible and expect to use the V709 LUT in post to match toward the Amira 709 LUT. The EVA1 sharpness fits nicely between the Samsung NX1 and the Amira.
It's important to have a workflow that clients can easily adjust to when introducing a new camera with your other cameras. If it weren't for the good results of the V709 LUT, I don't think I would make the leap. Now I just have to figure out accessories.